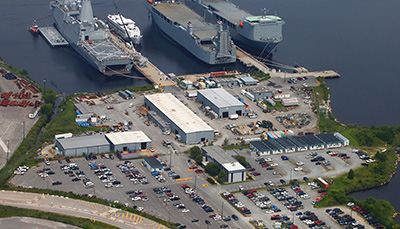 NASSCO-Norfolk's Harper Avenue Yard is located on 60 acres at Pinners Point in Portsmouth, Virginia next to the Portsmouth Marine Terminal and adjacent to the Elizabeth River. On NOAA Navigation Chart #12253, the coordinates are 36o 51' 7.2" North Latitude and 76o 18' 48.5" West Longitude.
The Harper Avenue facility is a full-service shipyard outfitted with one ship repair/modernization pier, one lay berth pier, and 50,000 square feet of covered environmentally controlled shops and inside shop storage area. The shipyard's steel and concrete Pier #1 has been approved by the U.S. Navy for mooring combatant, auxiliary and amphibious ships up to and including LPD-17 class vessels. Pier #1 is 799 feet long and 55 feet wide with a dolphin rated for 200 tons 53 feet off of the pier head. Water depth is 33-35 feet at Mean Lower Low Water on both sides. Pier #2 serves as a MARAD layberth facility.
For more information, contact us.