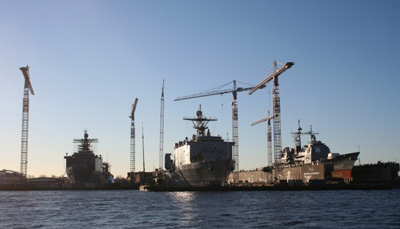 NASSCO-Norfolk's Ligon Street Yard is located at the confluence of the Southern and Eastern Branches of the Elizabeth River, directly across the river from downtown Norfolk. On NOAA Navigation Chart #12253, the coordinates are 36o 50' 17.7" North Latitude and 76o 17' 21.6" West Longitude.
The Ligon Street facility is a full-service shipyard outfitted with three piers (maximum dimensions 1,117 feet long by 40 feet wide), a 40,000LT drydock (capable of docking ships up to and including LHD-1 and LHA-6 Class vessels), five tower cranes, and industrial shops (e.g., Structural, Inside/Outside Machine, Sheet Metal, Diesel, Electrical, Pipe, Rigging and Lagging) capable of providing major repairs, planned maintenance and modernization.
For more information, contact us.